The gold market has maintained its trading range for weeks. This week appears to be headed in the same direction. On Monday, gold prices were again below the critical $1,850 level. This previous support area has become increasingly important to the gold market as it calls into question who is in charge: the bulls or the bears.
The yellow metal did cover some ground last week, however, as the bulls looked to bounce back from recent downside pressure. Until the bulls are able to produce a close above the $1,900 level, momentum players and short-term traders may stay on the sidelines.
Central Banks Still Buying Gold
Recent data from the World Gold Council showed central banks bought nearly 20 tonnes of gold in April. These financial mammoths are expected to be net buyers in 2022 and with good reason: the war in Ukraine has weaponized the dollar and, because of this, central banks may look to diversify away from the currency. What better way to diversify from the U.S. dollar than with gold?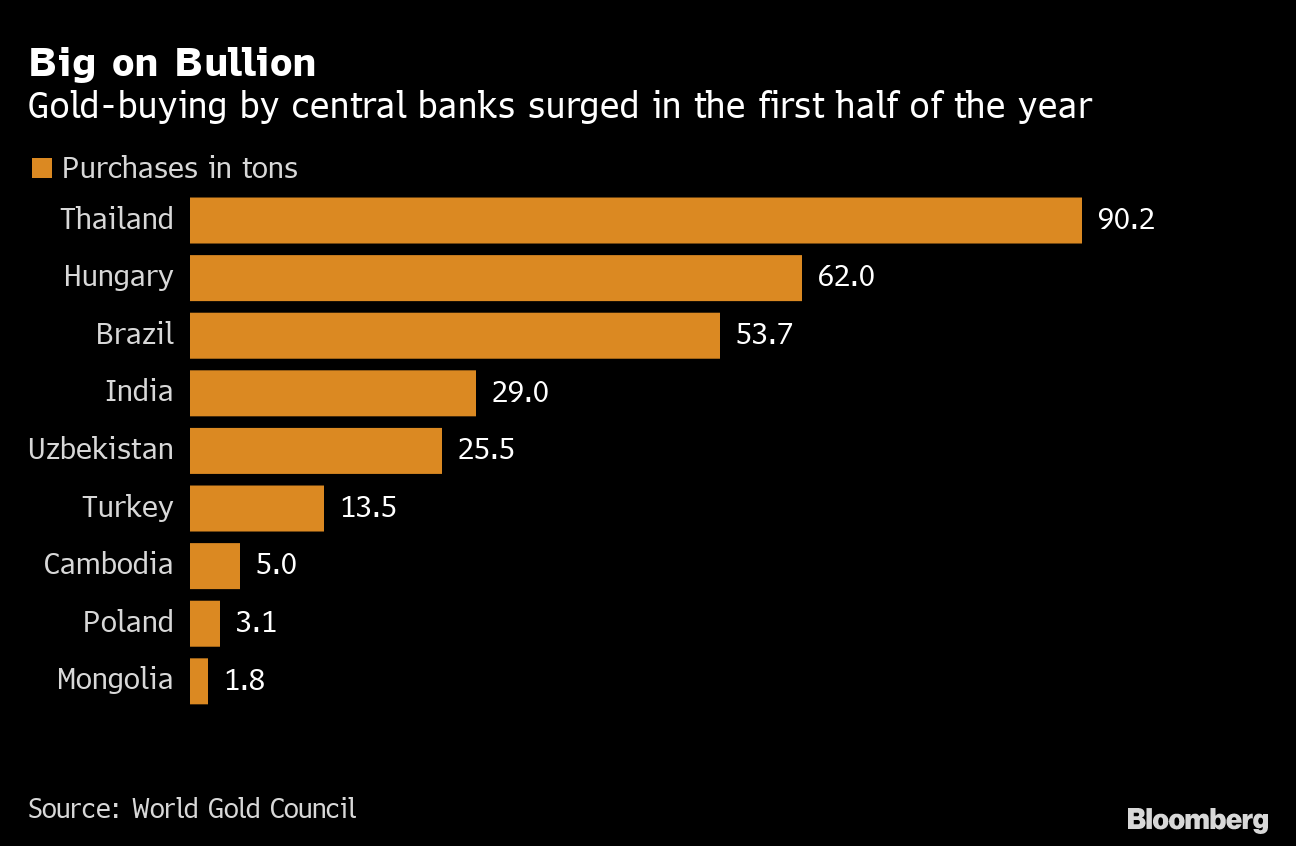 Central banks are the most powerful financial institutions on the planet. These massive banks know and understand the value that gold can add to their portfolios. Gold can not only add credibility to their respective currencies but can also add much-needed strategic diversification to their reserves.
The era of central bank asset buying is very likely to continue as well. Given the current economic and geopolitical backdrop, there may have never been a more important time for central banks to back up their currencies and operations with gold than right now. Central bank demand for gold may keep prices from declining much further and could even fuel a rally to new all-time highs in the months ahead.
Strong U.S. Mint Sales Signal Investor Anxiety
According to recent research from kitco.com, the U.S. Mint sold some 147,000 ounces of gold last month. This figure paints a different picture of gold than what has been reported in the financial media in recent weeks. Despite the fact that gold has been stuck in neutral, failing to expand to the upside or downside, physical demand for bullion may be on the rise.
The 147,000 ounces sold last month represents the best May sales data since 2o10. It also may provide a very clear message: investors are nervous and are seeking perceived safe havens in which to put capital to work. Bullion demand for the year is up over 600% and that demand could rise even further if current trends remain in place.
The gold market is being driven not only by inflation but also by hawkish central bank rhetoric, the war in Ukraine, and uncertainty over the economy among other issues. As the Federal Reserve looks to combat inflation through higher interest rates, these issues are unlikely to go away anytime soon and could determine the path of gold in the months ahead.
Although prices have remained weighed down in recent weeks, the true health of the bullion market may be better viewed in terms of sales than price. It stands to reason that strong bullion sales figures may eventually affect the market price. Those effects may simply take some time to develop, however.
Market Technicals Still Flat 
As has been the case for weeks, the gold market remains stuck in neutral. The market moved up, declined towards $1,800, rebounded, and is now seeing weakness once again. Neither the bulls nor the bears are in firm control of the market as prices meander between key support and resistance levels.
The $1,800 and $1,900 price levels could be critical in determining how the market moves in the months ahead. The bulls and bears are looking to produce a close above and below these levels in a move that could encourage further buying or selling. The $1,850 level may act as a pivot point for the market in the near term. This level was a key support for gold previously until it was breached to the downside. Now, it may act as resistance for the bulls and could potentially keep a cap on gold for the weeks ahead.
As the war in Ukraine rages on with no end in sight, gold and other perceived safe-haven asset classes could possibly benefit. Bitcoin, for example, has been in a tight trading range as well for a few weeks now. While the currency is likely to break out of this $4,000 range it has been coiling in, it is not clear in which direction that break may occur.
Bitcoin prices were higher Monday as the currency finally snapped out of its longest losing streak. Whether the rally today can be sustained is unclear, however, as numerous issues that have forced cryptos lower in recent months remain, including inflation, recession risk, and hawkish central banks.
At some point, the potential for bearish issues may become less and less important while the possibility of upside becomes increasingly desirable. Once that dynamic begins to switch, Bitcoin and gold could take off for the upside, leaving many unsuspecting shorts devastated as prices return to all-time highs or beyond.
---
Will your portfolio weather the next financial crisis?
Request your free investors info-kit that explains how to protect and diversify your portfolio with alternative assets.