The gold market could be gearing up for a major, extended move up or down. The yellow metal has not strayed far from the $1,850 level in recent weeks, and the $1,800 and $1,900 levels remain key areas for the bulls and the bears. Despite some recent volatility and a Federal Reserve that raised rates by 75 basis points last week, the gold market did not cover much ground. 
The Federal Reserve's decision to raise the fed funds rate by 75 rather than 50 basis points was the primary market driver of the week. According to the CME's FedWatch tool, markets were pricing in a nearly 100% chance of a 75-point hike on Wednesday afternoon just hours before the FOMC announcement. Markets are now pricing in a very strong likelihood of another 75-point hike at the next FOMC meeting.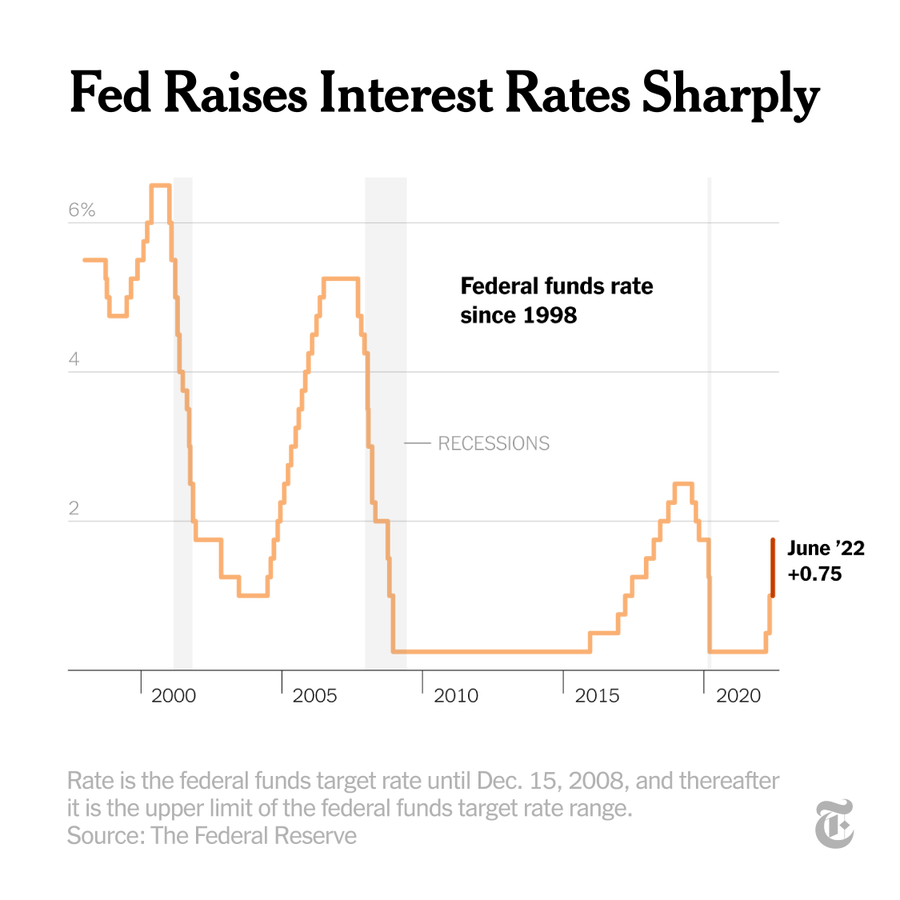 The Fed's plans regarding interest rates will be a major driver of gold prices in the months ahead. Some have recently suggested that the Fed could send gold sharply higher if it simply stuck to its original plans for 50-point rate hikes. A 50-point hike could be viewed as a "disappointment" by the markets and gold could potentially rally on that notion. Although the Fed could elect to hike rates only 50-points, it could also decide to raise rates by even more than expected. A 100-point rate hike could rattle markets, for example, as equities would likely be sold off heavily and gold could also see strong selling pressure. While it remains unclear exactly what the Fed will do in the months ahead, one thing appears for certain: the Fed's actions may have a dramatic impact on gold and other financial markets. 
There has been some discussion among analysts that the Fed could eventually decide to ease up on its rate hikes or even reverse course completely. Such a scenario could be the worst case, however, as a Fed reversal may not only not get inflation under control but could usher in an extended period of stagflation. 
Fed Chairman Jerome Powell may hold the keys to gold's fortunes. If the Fed boss takes increasingly hawkish rhetoric and raises the possibility of even larger rate hikes, the gold market could see any upside limited or it could just continue its downswing. 
The Fed may avoid disappointing market expectations if it stays on its recent course. The central bank is in the business of keeping inflation under control, after all, and not in the business of keeping stock investors appeased. A 50-point hike from the Fed could send stocks and gold rallying after the next Fed meeting, but the relief rebound could prove short-lived if the Fed does not change its tune drastically. 
Of particular note in recent market action is whether gold or cryptocurrencies may become highly coveted risk assets. Gold has been considered a reliable store of wealth and value for centuries. Cryptocurrencies, such as Bitcoin, have only been around for about a decade now and may still have much to prove. 
Some analysts believe gold could see renewed and stronger demand as investors flee the cryptocurrency space. After rallying to an all-time high of about $68,000 in 2021, Bitcoin has since blown up, declining to less than $18,000 per unit in recent trade. The recent crypto blow-up could serve to reinforce the value of gold as not only an effective inflation hedge but as a hedge against geopolitical risks. 
Gold could very well be the last outlier. As Bitcoin and other digital currencies decline and fall in line with other risk assets, demand for such assets may eventually turn towards gold. If gold can hold its value relative to these other asset classes, it may again prove itself to be the king of perceived safe-haven assets. Being the top asset class for those looking to shed some risk may benefit gold significantly, although those benefits could take some time to develop. This makes gold the ideal asset for the patient investor, who chooses to see the "forest through the trees" and focus on the long-term rather than just the short-term. 
---
Will your portfolio weather the next financial crisis?
Request your free investors info-kit that explains how to protect and diversify your portfolio with alternative assets.